When it comes to transporting heavy loads, you need a special kind of trailer – one that's strong enough to carry the weight of your machinery, with the stability and power to get it from A to B on time.
Luckily, as a leading transport company in the UK, we have an extensive fleet of haulage vehicles at our disposal, here at JB Rawcliffe – including low loader trailers.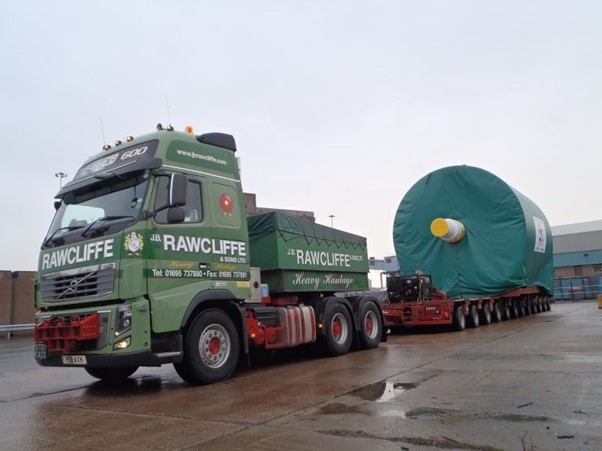 What is a low loader?
A low loader is a type of flatbed trailer, specifically designed to carry industrial goods and heavy pieces of equipment safely and efficiently.
It has two drops in deck height that allow it to be much lower to the ground than other trailers.
This not only makes it easier to load equipment (including taller machine and wider objects), but it also lowers the centre of gravity for the goods in transit, ensuring safe transportation from start to finish.
A low loader trailer attaches directly to a prime mover, offering a robust transport solution for even the largest of machines.
Why should you consider a low loader trailer for your haulage?
Though they are often a staple for construction projects, low loaders are widely used among different industries – thanks to their functionality and cost-efficiency for hauling major resources.
Low loaders have adjustable height settings, which makes life easier for you when loading large and heavy cargo.
They can legally bear more weight than others and, as a result of their low height, they are perfect for transporting abnormal loads that cannot be split into separate deliveries.
Something else worth noting about these vehicles within our fleet is that they are incredibly flexible. They are straightforward to manoeuvre around sites and the trailer itself can be extended or lowered to allow for taller goods.
Due to their height, they are usually less affected by strong winds, too – ensuring maximum safety and security for the goods being transported.
As the loading process is much easier, the need for manual labour (and the risk of workers injuring themselves) is significantly reduced.
How do you hire a low loader?
Hiring a low loader for heavy haulage couldn't be simpler than it is, here at JB Rawcliffe.
Our experts have vast experience in the haulage industry and have had the privilege of working with clients from various sectors for more than 45 years.
Before we determine the most suitable haulage vehicle for your project, we'll need to know a little more about the goods you need to transport and the driving conditions.
Armed with a basic understanding of the task at hand, we will advise you on the best low loader for the job – ensuring maximum safety for the load being delivered and potentially shortening lead times.
To get the ball rolling, be sure to give us a call on 01695 737 880. Or, if you prefer, drop us an email at enquiries@jbrawcliffe.com, and we'll get back to you as soon as possible.