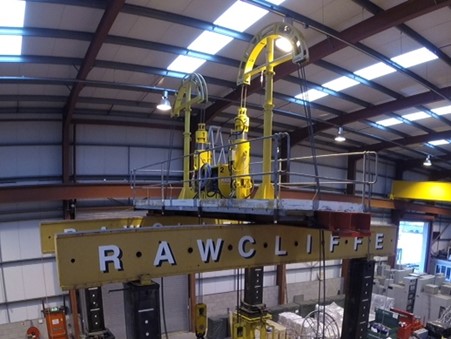 A strand jack is a type of linear winch that's used to pull heavy loads from above – offering a compact and precise solution for heavy lifting and lowering operations.
Unlike regular jacks that push the load up, strand jacks have a bundle of steel cables (otherwise known as strands) that are guided through a hydraulic cylinder and pulled up.
These systems have two clamps: one at the bottom which is fixed, and another at the top which is connected to the cylinder and moves up and down.
Both clamps have wedges that grip the strand. The lifting or lowering motion is achieved by the cylinder extending and retracting while the wedges lock onto each strand in turn.
In this blog, we'll take a closer look at strand jacks and their uses – including the different industries they can be employed and the benefits they bring.
What are strand jacks used for?
Strand jack systems are widely used in heavy construction and engineering industries – particularly for bridges, ports and large-scale plant maintenance projects.
The hydraulic cylinders and strands allow heavy loads to be lifted to the required height, but objects and structures can also be pulled (skidded) into a certain position.
Although a strand jack can be used to lift, handle and lower heavy machinery and equipment within construction and engineering, they can also be used in the oil and gas industry.
Multiple strand jacks can be operated simultaneously by hydraulic controllers at oil rigs, and they can be used in tandem to lift heavy offshore platforms from or onto barges.
Why are strand jack systems used?
Strand jacks offer several advantages that make them useful for the aforementioned industries – one of their main ones being that they have a small footprint. This makes them ideal if there is a lack of space on the construction or assembly site for a conventional crane.
Despite their compact size, strand jack systems can still lift and lower machinery and equipment with excellent precision – ensuring they are transferred safely and efficiently.
These systems frequently provide a viable alternative for lifting loads that are not suitable to be jacked from beneath. They offer an economic and controlled solution for lifting, turning, transferring and lowering cumbersome loads.
As opposed to cranes that normally use a single-strand hoist with pulleys to lift the load, strand jack systems use multiple strands to lift the load – making it much safer.
What's more, strand jacks can be conveniently operated by a single operator using a computer or controller in a central location. And they operate at various speeds, helping to enhance productivity and efficiency on site.
Find out more today and talk to JB Rawcliffe
Here at JB Rawcliffe, we pride ourselves on supplying the most reliable lifting equipment for all projects – no matter how big or small they may be – and that includes our strand jack systems.
We have been providing our dependable jacks for more than 45 years and are confident we can make it easier for you to transfer heavy or difficult loads quickly and safely.
We provide some of the most competitive prices, too – allowing you to benefit from our excellent systems and expertise without breaking the bank.
If you're debating whether to hire a strand jack for your next project or you've got a question about our systems, please don't hesitate to get in touch.
Either give us a call on 01695 737 880 or drop us an email at enquiries@jbrawcliffe.com and we'll get back to you as soon as possible.